What are social simulations?
The following video will help you grasp the most important aspects of the social simulations:
Why is it so unique?
How to apply it?
What are the benefits of using it ?
For more videos about our social and policy simulations, visit our YouTube channel
Social simulations are experiential processes where a group of participants collectively explores a complex reality.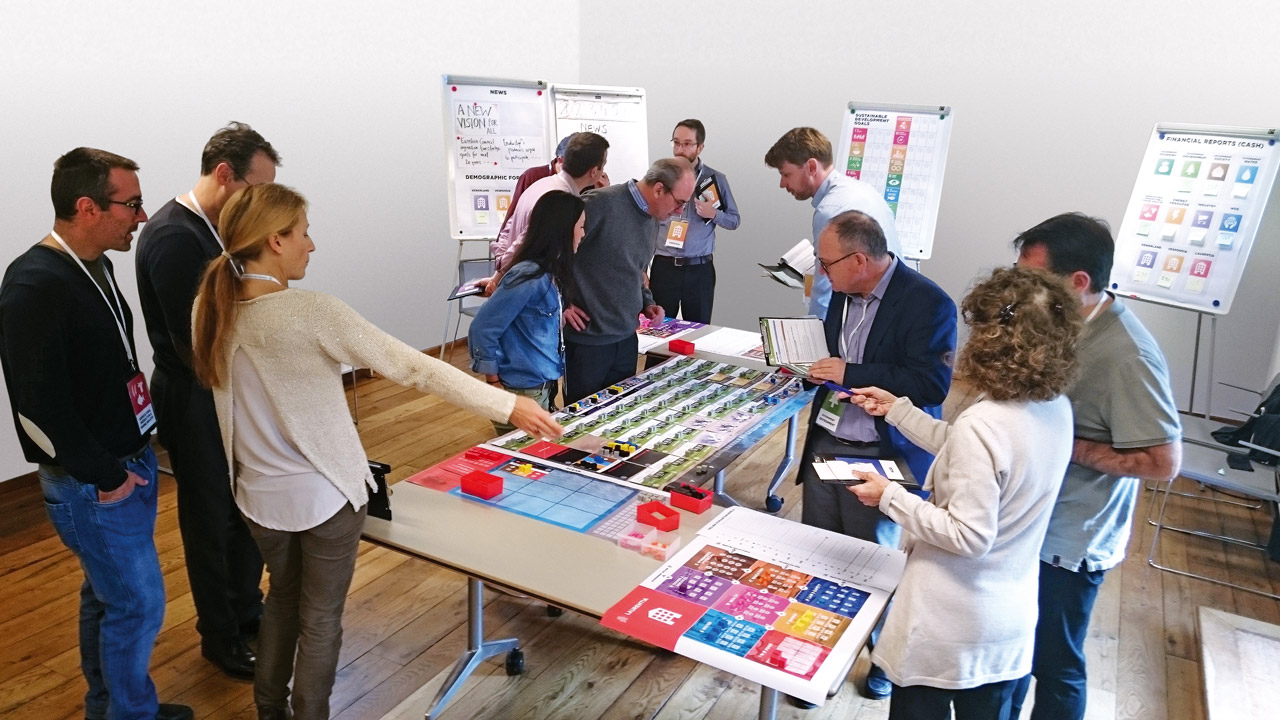 Complex problems require solutions that respect the laws of nature and the needs of people. Bringing together diverse stakeholders in a safe space is essential to exploring various solutions and testing their viability. This is why we design and implement social simulations. 
It is social because it requires the participation of real people who represent different groups and organizations. We call it a simulation because it represents a carefully selected real-world situation or a process, enabling participants to actively operate its key elements and make claims about how they work. This simulated reality is created through the use of game elements (roles, problem cards, pictures, tokens, boards, etc.). 
How do social simulations work?
All types of social simulations created by the Centre for Systems Solutions offer a combination of science-based and relational problem-solving. They include game-like elements to structure communication, and feedback mechanisms to trigger reflection and deep learning. For a few hours, stakeholders with various experiences and values take on specific roles (either mock or real), representing different sectors, e.g. research, administration, business, NGOs. They interact with each other in a shared, safe environment that reflects key aspects of the real world. In this simulated reality, they have a chance to find solutions to real problems, confront opposing views, and solve conflicts via negotiations and dialogue. Together, they creatively test new approaches and instantly face the outcomes of their decisions.
The conversations that occur and the pathways that appear while using simulation enable participants to expand and revise their worldviews. They help surface misconceptions and trigger dialogue and experimentation. The common experience eliminates barriers among diverse parties, enhancing trust and understanding.
With an increased flow of information, participants find it easier to build a shared language and act together towards a common cause. The resulting mind-shift leads to creative, inclusive, and resilient solutions, as well as inspires to change and action in the real world.
A special type of social simulation, a policy simulation (also known as policy exercise), may also be used to explore real policy issues. Unlike social simulations that apply role-playing and stylized settings, policy simulations require that participants assume their real-life roles, work with real-world data, and operate within their own cultural contexts.
Achieving sustainable development goals, adapting to and mitigating climate change, responsible resource management, transforming the energy sector, advancing individual and social well-being, or creating resilient communities are just a few examples of the complex problems for which social simulations can be used. They provide a testing ground where educators, sustainability professionals, and policymakers can collaboratively set out future options and a path for getting there.
Our social simulations provide a wide array of applications in the following areas:
Portfolio
See the simulations we've created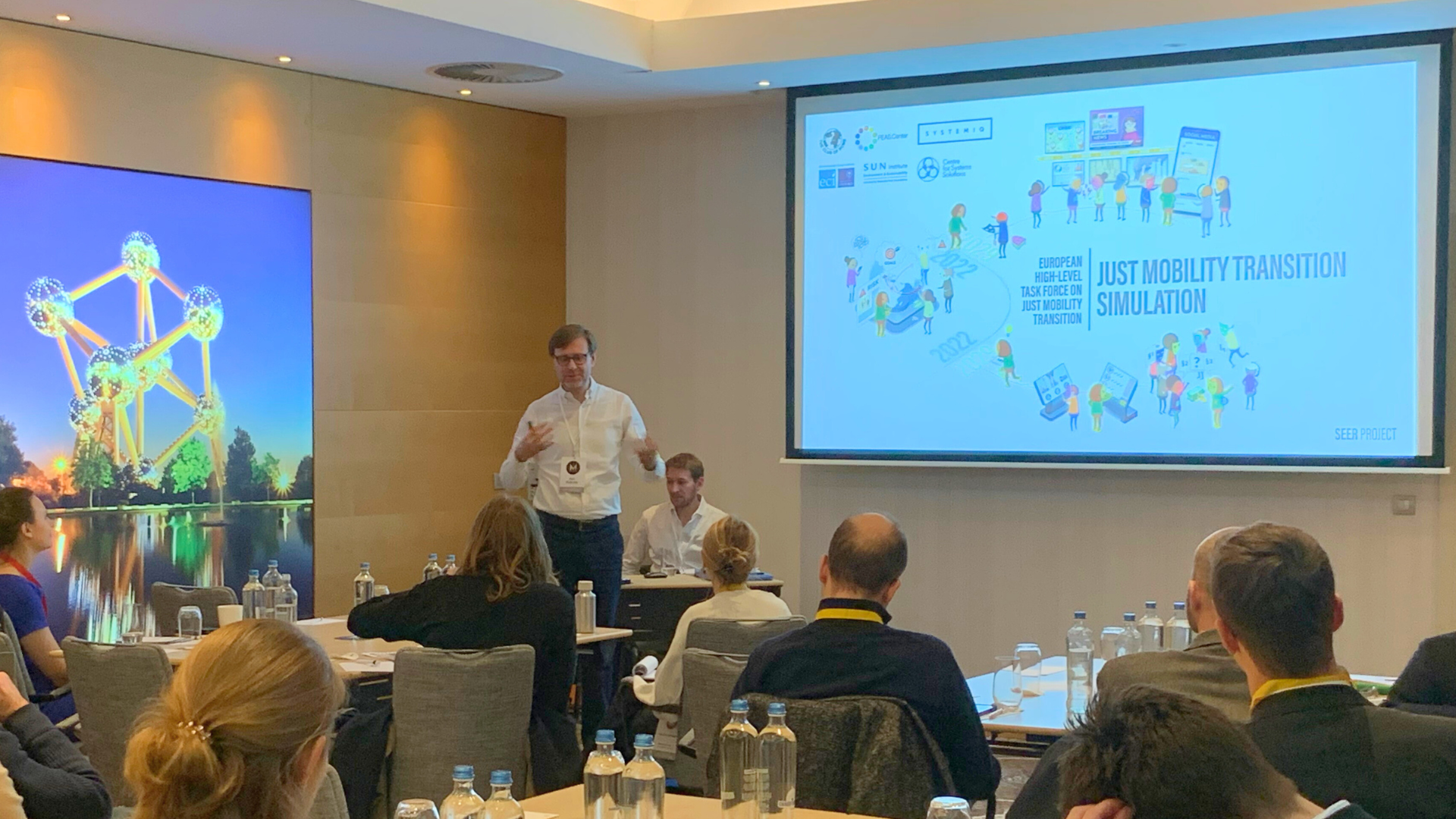 You are given a glimpse of the plausible near future of 2029. All across the European Union, labour market challenges associated with mobility transition need to be addressed.
Usage
Social simulations can be used in the process of:
The tools were used within many workshops, conferences, and courses all over the world.
Formal Education
Public Policy
Scientists
BUSINESSES
Artists
NGOs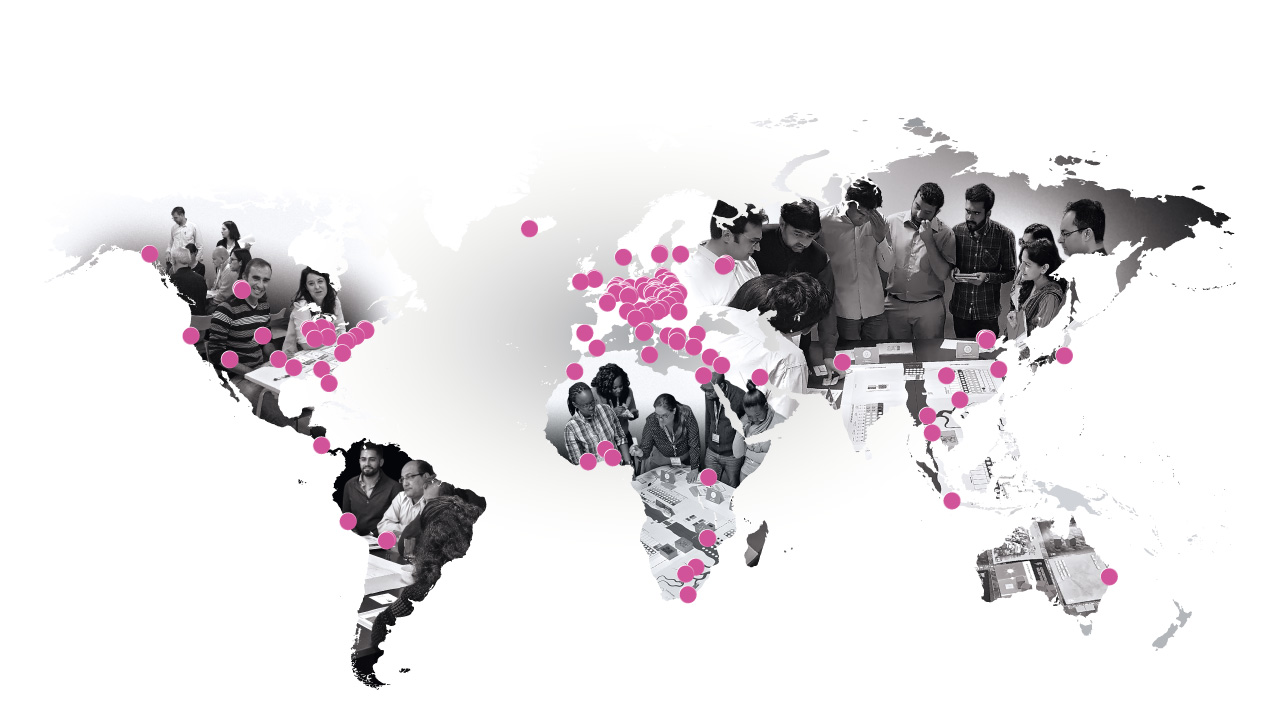 We encourage you to contact us and easily learn how to use one of our social simulations. See available courses.
We can also create a simulation related to one of the Sustainable Development Goals, or deliver a workshop tailored to your audience. 
Together we can create a valuable experience.  We look forward to becoming your project partner.
Learn more about our organization – Centre for Systems Solutions.
Recommendations
What our recipients say about social simulations?
In the game we covered individual decision making or collective decision making on risk and uncertainty. I think we all learnt that it has to be both. We have to think about our own good, income, good education for us, for our families. At the same time we have to think about our collective wellbeing. (…) So I think it was a big success. It was fun for both the teachers and the students.
The game is great for consulting company teams or for businesses that are working towards and trading in the sustainable development field. The game creates good opportunities for insight into how business is transforming. It can help enrich the dialogue with business related to public-private partnerships.
I participated in the game and found it to be engaging, fun, and surprisingly useful to understand, given a relatively brief period of time, some of the collaboration challenges that individuals and organizations confront in working together in policy contexts.
Energy transformation will only be a success if we find a way of getting everybody on board. Playing the energy game helped me experience how to create mutual understanding of seemingly opposing roles. The playful joint fact finding made one thing clear: we have to cooperate to find feasible answers to the burning challenges.
Half-way through the first round of the game I was totally immersed. PIPES [Public Infrastructure Participatory Engagement Simulation] is a realistic, exciting, and fun way to explore the challenges associated with aging and failing civic infrastructure. Playing just a few rounds of PIPES made me realize that my typical approach to decision making can affect other stakeholders in ways that I did not realize.
Using the game for training students was really helpful. The complexity of achieving all SDGs at the same time in different countries became vividly clear. The students recognised the high relevance of communication and networking on an international level and the importance of broad and sound systems knowledge.
The very strong side of the game is that it makes you "live" these problems (of each party), which occur in water management practice, hence it is an experience, rather than just talk about issues like this, which makes one more deeply understand the problems about water management. It is also a very good side of it, that one can get these experiences as different actors of the society, therefore it gives you a broader perspective on the problems.
We create social simulations for Recipients all over the world
European Commission - The World's Future
OECD - The World's Future; EY (Ernst & Young) - Green & Great
African Development Bank - Nexus Game
Al-sayer group - Green & Great
Estonian Ministry of Environment - Energy Transition Game
European Forum Alpbach - The World's Future, Bengaluru Quest, InDilemma, Forest@Risk, About That Forest
International Institute for Applied Systems Analysis - Many games; OSCE Ministerial Council - InDilemma; European Forum Alpbach and Vienna University of Economy and Business - Lords of the Valley; BOKU Centre for Development Research CDR - Climate&Society Game
Stockholm Environment Institute - Gifts of Culture
Wuppertal Institute - Energy Transition game
Goethe-Institut - Lords of the Valley
Michigan State University - PIPES (Public Infrastructure Participatory Engagement Simulation)
Wageningen University & Research Centre - Gifts of Culture
Zurich Flood Resilience Alliance - Flood Resilience Game
Zurich Flood Resilience Alliance - Flood Resilience Game
Human and Environment Linkage Programme - Lords of the Valley, Forest@Risk
EY - Green&Great
University of Colorado - Forest game
University of Colorado - Forest game
Energy Transitions Game
EY - Green&Great
SICONECT - Lords of the Valley
Dresden Nexus Conference - Nexus Game
EDUCEN final conference - Cultural Memory Game
Whole World is a Single Flower conference - Climate & Society
Southern African Systems Analysis Centre (SASAC) - Nexus Game
International Institute for Applied Systems Analysis and Egyptian Academy of Scientific Research and Technology (ASRT) - Nexus Game
International Institute for Applied Systems Analysis - Nexus Game
ACCURENT project workshop - Energy Transition Game; Systems Innovation Lab - Energy Tranistion Game; Festival der Zukunft - Energy Transition Game
EDUCEN project meeting - Evacuation Challenge Game
Centre for Systems Solutions